L'Arboç - Bellvei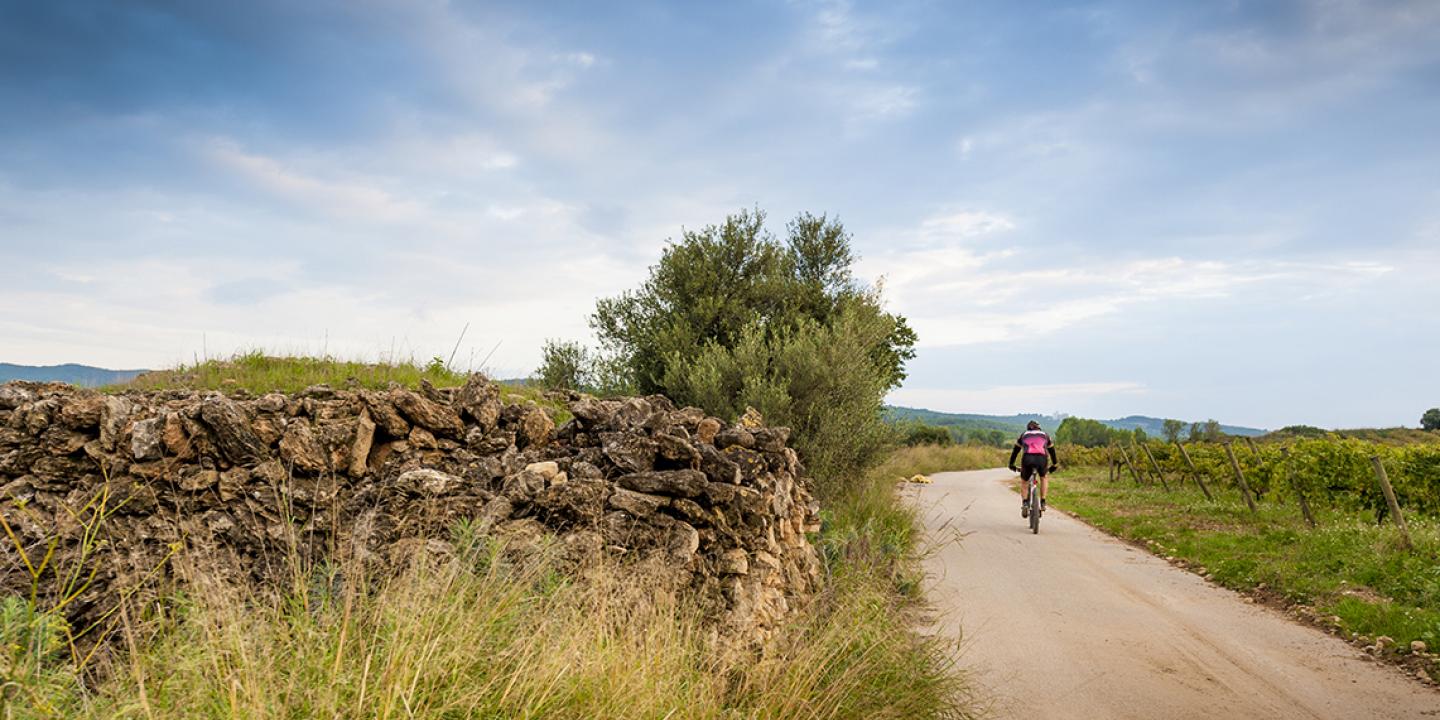 L'Arboç
Bellvei
On the border between Alt Penedès and Baix Penedès
General description
The southern end of the Via Augusta Penedès connects l'Arboç to Bellvei, crossing the small village of La Gornal following a course that is fairly flat and once again completely surrounded by a landscape of vineyards. 
The stage starts at the crossroads of Camí Moliner, a name that may be linked to the mill on the Marmellar gully that lies behind you on the trail, and Camí de la Costeta, in the township of l'Arboç. Follow Camí Moliner towards La Gornal. One of the places that it crosses is the so-called Solar Roig, where a Roman site has been documented.
You will come to the Poblenou neighbourhood of La Gornal, and cross the BV2116 road, continuing along Carrer de França towards the centre of the village. Go around the N-340 road using the overpass. The milestone in the square commemorates the famous amphorae and the wine trade of the Roman times.
Continue along the narrow streets and whitewashed houses of the historic centre of La Gornal, passing by the Romanesque Sant Pere church. Continue along Carrer de l'Església to the square Plaça de Montserrat, where you will take Carrer de Roselló, passing next to the sports field and heading back into a more rural landscape, now with olive trees and some reeds, which are a sign of the presence of some small streams, such as Torrent de la Pallisseta. On fairly level ground, you will reach the western edge of the township, a limit that you will follow on Camí Morraler to Bellvei. You are once again in the county of Baix Penedès, a region with a wealth of Roman ruins, among which, only 8 km away, the Iberian fort of Calafell stands out, and 12 km away, the Arc de Berà.
Characteristics of the stage
Profile of the stage
Families.
Parking
L'Arboç: Renfe station.
Bellvei: Renfe station.
Time on foot
1 hour, 40 min (without stopping)
Practical information
Be careful in La Gornal when crossing the BV2116 road and also when you reach the N-340.
L'Arboç
L'Arboç train station.