Sant Sadurní d'Anoia - Lavern Subirats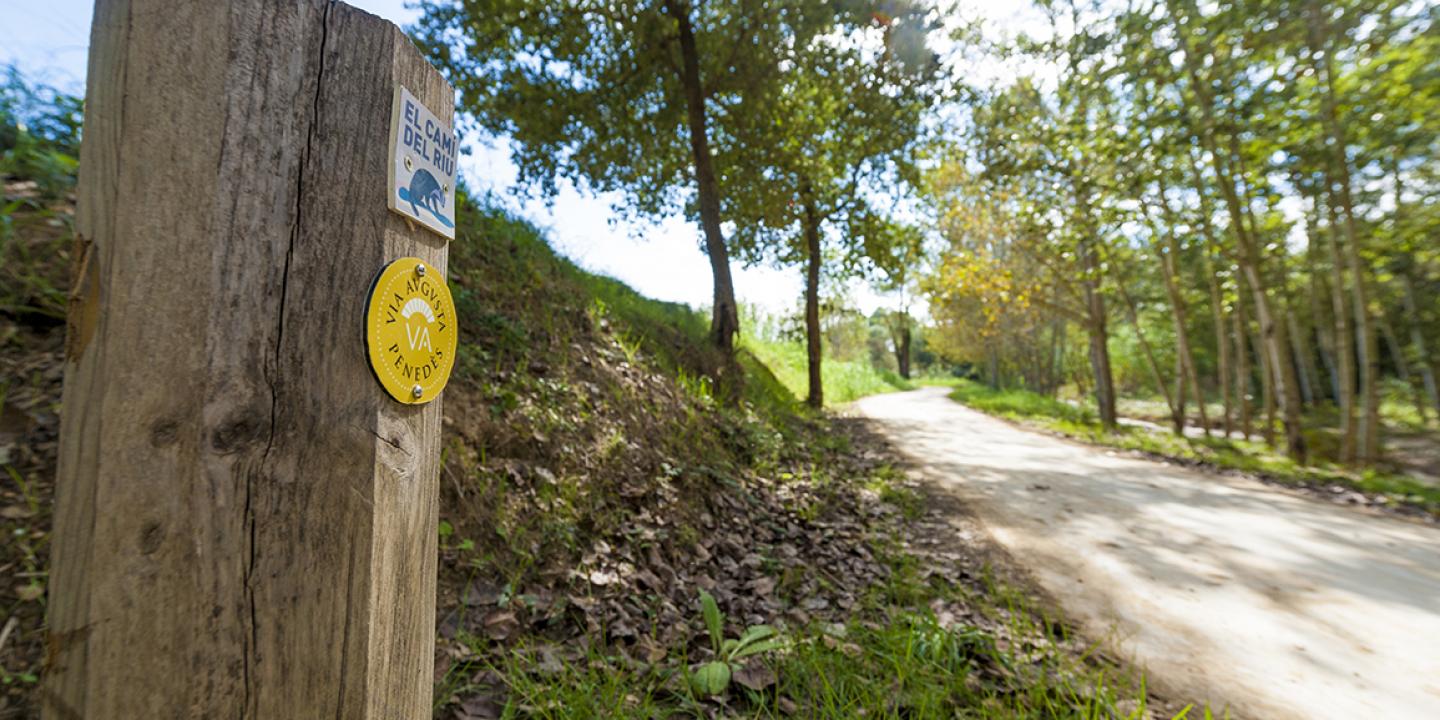 Sant Sadurní d'Anoia
Lavern Subirats
Around the township of Subirats, the vineyard capital
General description
A short stage between Sant Sadurní d'Anoia and Sant Pere Lavern that runs mainly through the large township of Subirats, presided over by the splendid 10th-century castle that gives the town its name. The route features a landscape broken up by the many mountain streams and gullies running through it.  
The stage starts at the station in Sant Sadurní d'Anoia. If you want to take advantage to visit the castle at Subirats, along with the sanctuary of Mare de Déu de la Font Santa and the medieval village of Torre Ramona, you should head to the east, and plan the day well, since the route runs about 12 kilometres and is a little bit steep.
If you decide to go directly to the Via Augusta Penedès, from the station you should go towards the centre of town; after the bridge, after the first houses, take the street on the left that goes down toward the Lavernó gully. Cross it and keep going straight. You will pass right in front of the Mas de la Riera country estate and then take a path that coincides with Camí del Riu, which follows the side of the gully for about 1.3 km, until you get to the way up to Cascarell. After a rise that is a bit steep, you will reach Can Batista. Keep going on the same path, which goes over the high-speed train tracks. Without leaving the path, you will reach Torrent de Can Batlle. Just after this gully, you will leave the Can Batista path and take the path on the left that once again crosses the Lavernó gully, and then, a bit later, Torrent de Ca l'Artigues. Continue on the Ca l'Artigues path until you cross the BV- 2429 road, which is just a few metres from the Sant Pere Lavern church. At this point you can go on to the next stage or get the train, about 250 m. away, at the old wayside station of Lavern-Subirats, which is now a Tourism Office with a bicycle rental service. 
Characteristics of the stage
Profile of the stage
Families.
Can be cycled
Can be cycled, coinciding with Camí del Riu.
Fountains
Font de Can Batista
Picnic areas
Camí del Riu and Camí de Can Batista.
Parking
Sant Sadurní d'Anoia: Renfe station and public, open-air parking at l'Ateneu, El Centre, and Pont Romà.
Lavern-Subirats: Renfe station.
Time on foot
1hour, 25 min (without stopping)
Practical information
You have to be careful crossing the BV-2429 road, just before Sant Pere Lavern, and also the same road when you head towards the Lavern-Subirats station.
Sant Sadurní d'Anoia
R4 line of Rodalies, Sant Sadurní d'Anoia train station.
Lavern-Subirats
R4 line of Rodalies, Lavern-Subirats train station.