Vilafranca del Penedès - Els Monjos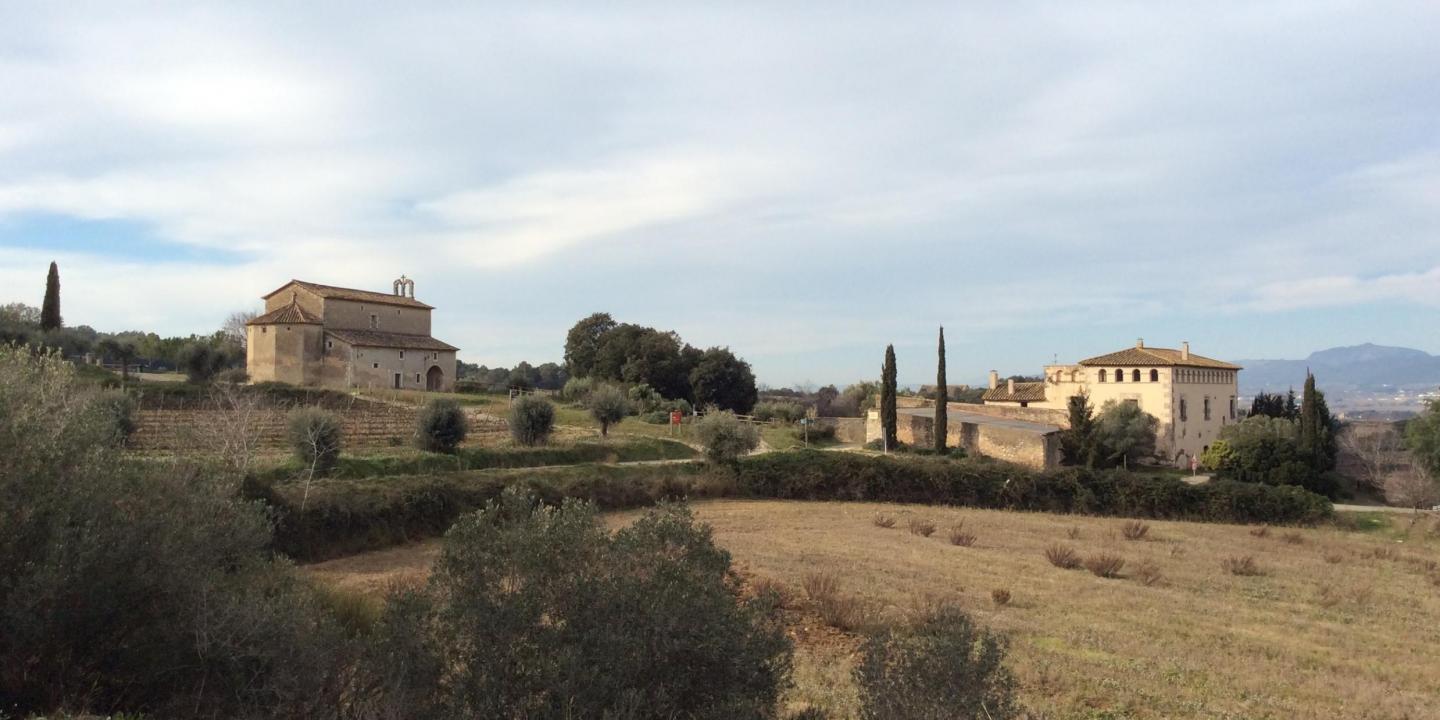 Vilafranca del Penedès
Els Monjos
Going along the edge of the Olèrdola Regional Park
General description
It seems that the branch of the Via Augusta that left Vilafranca would be today's N-340 motorway. The alternate route proposed passes through the neighbouring town of Moja and follows the bicycle lane between the two towns. From Moja it goes towards Santa Margarida i els Monjos by way of Camí de Penafel, which allows walkers to come into contact with the Garraf through a rougher, forest-covered landscape.
From the station, head towards the start of Carrer de Sant Pere, right next to Rambla de Sant Francesc, and follow it down to the bottom, where you will see the Sant Salvador cross. Turn onto Carrer de Moja, then take the BV-2119 road, taking advantage of the hard-won side lane, which has now been prepared for pedestrians and cyclists. Once in Moja, go up to Plaça de l'Església, cross the square, then take Carrer de Sant Macari and then right away Carrer de Penafel. Follow the path until the Penafel castle estate, located at the doors of the Foix Park, and take the path between the house and the chapel Mare de Déu de Penafel. 100 m further on, just after having crossed the mountain stream Torrent de Mata-rectors, you will find the fountain Font de la Mare de Déu de Penafel. Above, Espitlles is behind you. You are within the area of Foix Park. Continue going down to the Santa Margarida church, a Romanesque church, and cross the Foix River using the bridge. At this point, if you want to continue to the following stage, go to the left, and if you want to take the train, go right and go around the edge of the industrial neighbourhood to the Els Monjos station.  
Characteristics of the stage
Profile of the stage
Families.
Fountains
Mare de Déu de Penafel
Parking
Vilafranca del Penedès: Renfe station.
Els Monjos: Renfe station. 
Time on foot
2 hours (without resting)
Vilafranca del Penedès
Vilafranca del Penedès Renfe station.
Els Monjos
Els Monjos Renfe station.