Gelida - Sant Sadurní d'Anoia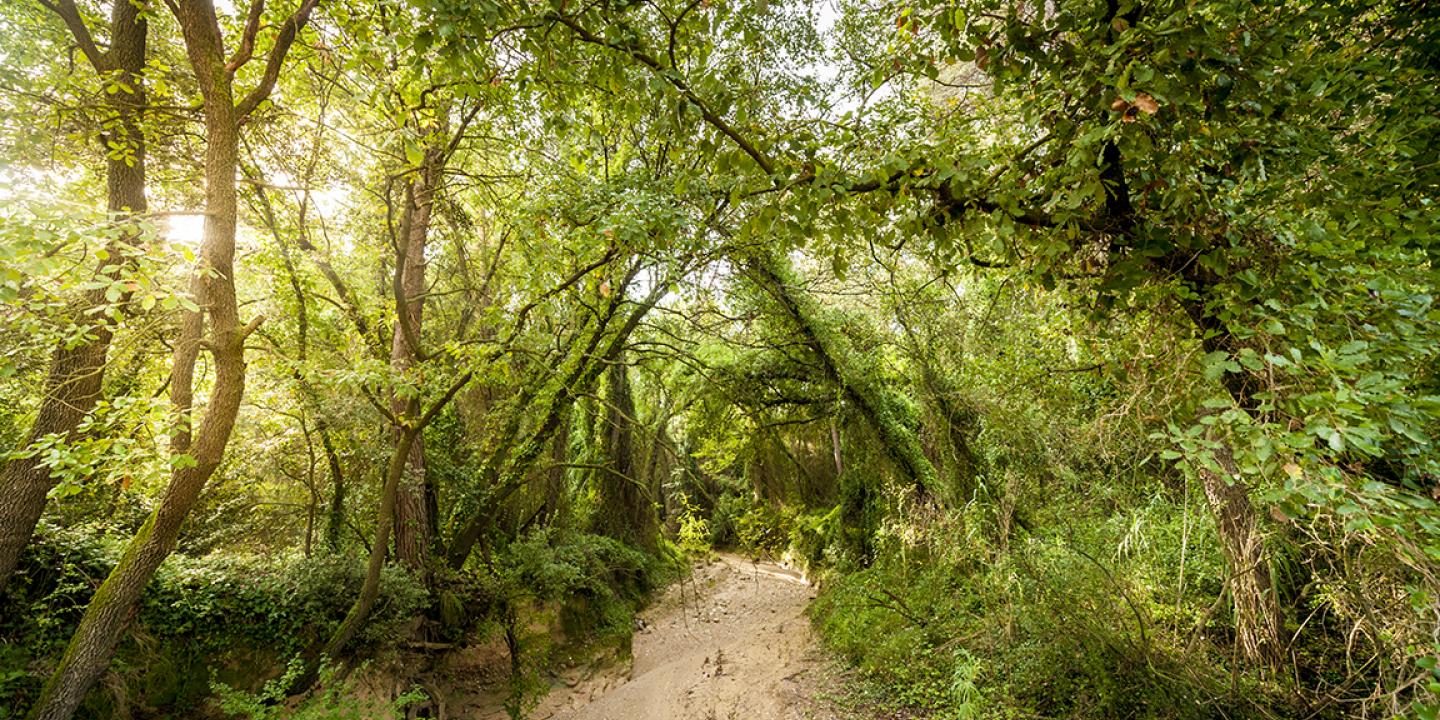 Gelida
Sant Sadurní d'Anoia
Between the valleys of Anoia and the mountains of Ordal
General description
Between the valleys of Anoia and the mountains of Ordal
General Description
The first stage of the Via Augusta goes from the small town of Gelida, nestled in the foothills of the Ordal mountain range, to Sant Sadurní d'Anoia, the capital of the country's main wineries for sparkling wine.
The path starts at the station in Gelida. When it's working, it's worth going up to the town on the nearly hundred-year-old funicular railway, "El Funi," and visiting the castle of Gelida, built on top of Iberian and Roman ruins, which has lovely views over the landscape of Valls de l'Anoia, against the imposing background of Montserrat.
From the station, the path heads towards the Gelindense industrial complex and Cases Noves, crossing the Anoia River by the Camí del Mig (BV-2249) bridge, passing the waste treatment plant and the Unex factory, and then it turns in the direction of Ferreria. It is at this point that one can start to enjoy the vineyard landscape that characterizes the Via Augusta Penedès and which has generally given way around the towns to industrial complexes and housing estates. 
The path continues along Camí de Can Miquel, through a land cut through with ravines, until it reaches Pas de Piles, over the Anoia River. The BV-2296 crosses the bridge, and then immediately afterwards, the path on the left goes up a steep slope to the byway that runs alongside the sinuous Anoia River. It continues on to the high point of Can Codorniu and enters Sant Sadurní d'Anoia from the northeast, crossing Plaça del Pont Romà, one of the oldest entrances to the town, continuing along Carrer de l'Església. It's well worth visiting the Can Fassina Centre for the Interpretation of Sparkling Wine.
Finally, the path goes down through Parc de la Timba, to the south of the town, and the stage ends where Carrer Maresme (path) meets Carrer Diputació, just before crossing the bridge over Riera de Lavernó. To the right, the stage continues, and to the left, the path leads to the Sant Sadurní d'Anoia station.
Characteristics of the stage
Profile of the stage
Families.
Can be cycled
Except all the part of the path by the Anoia River.
Accessible
Except all the part of the path by the Anoia River.
Picnic areas
Miranda d'Espiells, near the Espiells hermitage.
Parking
Gelida: Renfe station.
Sant Sadurní d'Anoia: Renfe station and public open-air parking at l'Ateneu, El Centre and Pont Romà.
Time on foot
3 hours and 30 min (without stopping)
Cycling time
1 hour (without stopping)
Practical information
Watch the crossing over the Anoia River by the bridge on the BV-2296 road. Keep in mind that you must cross the road to get on the left side and be able to take the path that goes down by the river.
Gelida
R4 line of Rodalies, Gelida train station.
Sant Sadurní d'Anoia
R4 line of Rodalies, Sant Sadurní d'Anoia train station.